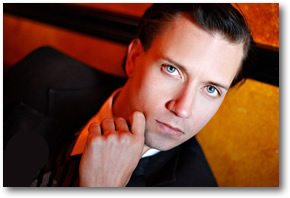 Forrest Outman began his life long journey in dance at age eleven and now, some twenty-six years later, he is more passionate than ever. He studied as a junior dancer in International style ballroom and Latin dance then began studying American style in his late teens when he was scouted by his local Arthur Murray and Fred Astaire studios. As a professional dance educator Forrest has over a 18 years of teaching experience and NDCA teaching certifications from ProDVIDA as well as PDIA. However, he is most well know for his exceptional diversity and having studied almost every major, minor, and historical form of social dance.
Another unique aspect of Forrest's career is that of an expert social dance historian. Over the course of the last 15 years his research, collecting, interviewing, and collaboration with leading researchers have garnered him prominence in the field. Prominent historians he regularly collaboratively works with include Lance Benishek, Richard Powers, John Hook, and Peter Loggins to name a few. He's considered by many to be a leading expert on Fox Trot, Peabody, Shag, and Collegiate 20's dances, though his research covers a much greater scope. He is also writes the "Ask The Historian" section in the U.S.'s most widely distributed partner dance magazine "American Dancer," as well as being a member of academic Society of Dance History Scholars.
Some of the many prestigious professionals he has studied with include Frankie Manning, David Rehm, Betty Wood, Christian Perry, Shirley Johnson, Jordan & Tatiana, Marcus & Barbl, Mario Robau, Sylvia Sykes, Lance Benishek, Michael Norris, Robert Royston, Natalie Gomes, Yuval Hod, Charlie Womble & Jackie McGee, Mary Ann Nunez, Kevin St. Laurent, Nick Williams, Steve Garrett, Joel Plys, Angel Figueroa, Michael Kiehm, Alex Kim, Billy Fajardo, and many more.
"I sincerely enjoy sharing my love of dance, knowledge, and unique historical perspectives with others that are passionate about dance. Knowledge of our rich dance history opens the mind, simplifies instruction, and breaks down barriers in perspective."